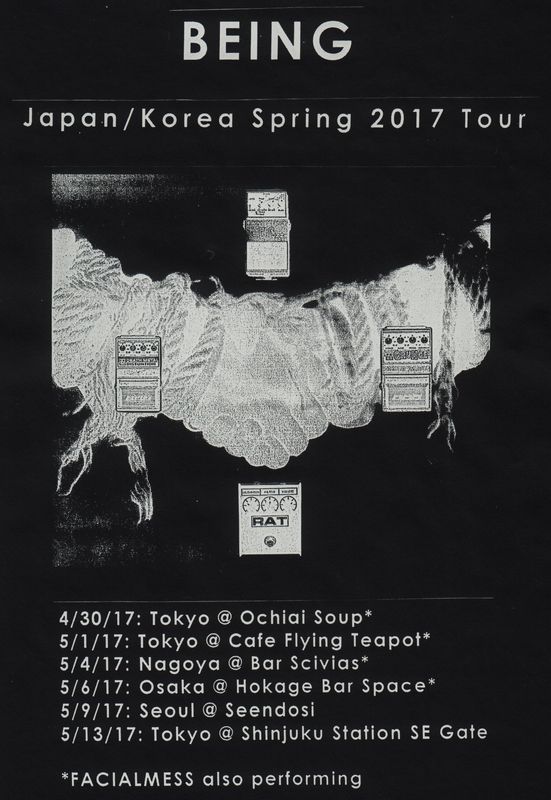 American harsh noise project Being will be traveling to Japan for a handful of shows this sping 2017. Tokyo's FACIALMESS will be performing on most dates as well.
Sunday, 4/30 @ Ochiai Soup, Shinjuku, Tokyo w/ FACIALMESS, Mikaten (T. Mikawa & Ten Tenko), Government Alpha, Kazumoto Endo, and Kazuma Kubota
https://www.facebook.com/events/1722302201414810/
Monday, 5/1 @ Ekoda Flying Teapot, Nerima, Tokyo w/ FACIALMESS & TADM, Hiroshi Hasegawa, Cracksteel, Slaughter Table, and Dave Skipper
https://www.facebook.com/events/1405076636197010/
Thursday, 5/4 @ Bar Scivias, Nagoya w/ FACIALMESS, Kazumoto Endo, Leecher, ODA takumi, and Tadashi Usami
https://www.facebook.com/events/175667189616265/
Saturday, 5/6 @ Hokage Bar Space, Osaka w/ FACIALMESS, orthymo, BBVGC, CazU-23
http://musicbarhokage.net/schedule5_2017.htm
Tuesday, 5/9 @ Seendosi, Seoul, South Korea w/ Astronoise
https://www.facebook.com/events/221487255000028/
Saturday, 5/13 @ Shinjuku Station, Shinjuku, Tokyo w/ Necromist (special guerilla noise performance outside station entrance)
New Skeleton Dust merchandise and exclusive tour-only Being cassette will be available for purchase.
Samples:
https://soundcloud.com/whiteheatnoise/t ... ak/s-oO4a3
https://soundcloud.com/harmolypi/being- ... c-03042017
Bio:
Active since 2006, Being is the harsh noise project of Dayton, Ohio's Luke Tandy. Utilizing amplified metal processed with heavy electronics, Being delivers a torrent of crashing sonics, continuing the tradition of violent American harsh noise first started in the early 90s by such pioneers as Macronympha, Skin Crime, Emil Beaulieau, and more. Many recordings have been featured on such labels as A Dear Girl Called Wendy, Sound Holes, and New Forces, as well as Tandy's own Skeleton Dust Recordings label, which itself has featured titles from other harsh noise staples such as Killer Bug, The Rita, The Haters, Hiroshi Hasegawa, Richard Ramirez and more.